EuroPay is currently used to process the payroll of banks, airlines, pharmaceutical companies, and by many of the major US tech companies headquartered in Ireland.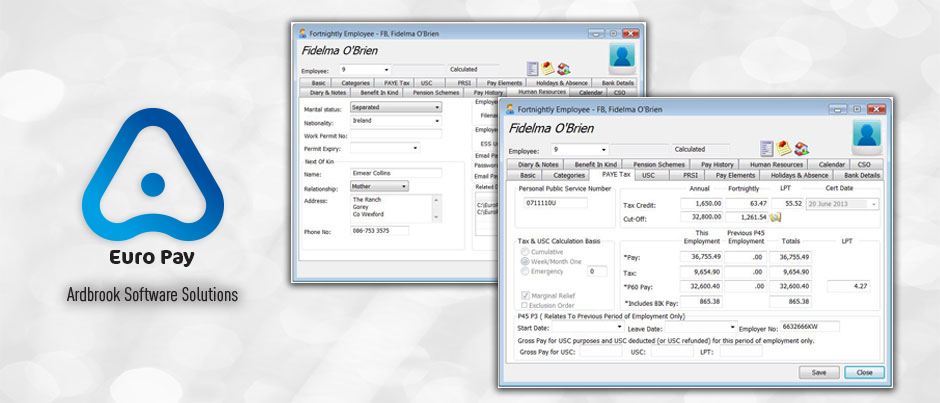 Fully flexible payroll application which supports full costing and management reporting and can integrate with a variety of HR, Time and Attendance and Accounting systems.
Single and Multi User / Company versions.
8 Payment Frequencies.
No limit on the numbers of Employees, Pay Elements, Cost Centres, Departments etc.
Flexible Pay Elements. Embed formulas, memo info etc.
Full Costing down to employee level.
Full Transactional History.
"Rollback" to a previous payroll period.
Employee Self Service (ESS) to access payslips, P60s etc. on myESS.ie.
CSO Reporting.
Prior period payslips. Prior year P35s, P60s etc.
HR module with ability to attach employee related files and documentation.
Retrospective Pay and Bonus Awards automatically handled.
Detail maintained on a Payroll, Financial, Pension and Pay Element year.
Absence History (including Holidays).
Import of both Permanent and This Period changes. Can be reversed.
Flexible Net to Gross calculations on individual Pay Elements.
Special Calculation Run.
3 Payment Methods. Pay can be distributed into a max of 10 bank accounts.
Direct payment of Pension, Medical Insurance etc.
Links to Word, Excel, GLs, etc.
2 built-in Report Writers.
Want more details?
Contact us at
Telephone: +353-1-838 2921
Email: sales@ardbrook.ie